If you want to install a new bathtub or shower, just give us a call to get our experts on the job.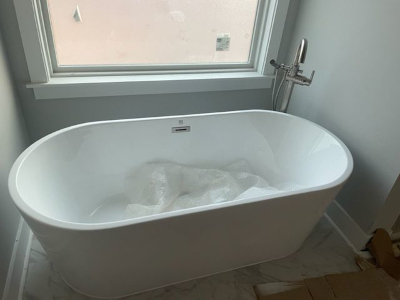 If you are looking for a way to make your bathroom more functional and comfortable, one of the best things you can do is replace your old tub or shower with a new one. Many older tubs and showers are cramped by today's standards and replacing them with more modern models will give you more room to relax (as well as more room to store your soaps and shampoos). Our team at Danny Eaton Plumbing has worked on countless bathtub/shower installation projects over the years, and you can count on us to make your project a success.
As we mentioned, we have worked extensively on bathroom renovations, including helping customers with the intricacies that come with a bathtub/shower installation. For example, we have removed high-walled tubs and installed no-step showers for clients who have mobility issues, and we have also removed old, cramped showers to replace them with luxury tubs complete with jets. Whatever you have in mind, you can turn to our team to get the help you need to bring your vision to life. We can help you design the ideal layout for your renovated bathroom, choose the right shower or tub, and finally take care of the installation process. If you have questions about our services, don't hesitate to contact our team to learn more.
Our team is proud to serve the Piedmont Triad, North Carolina area, and we want to help you make your bathroom as comfortable as possible. If you need someone to work on bathtub/shower installation for a renovation project or for a new build, just give us a call.