A free-standing tub can be an eye-catching focal point in any bathroom. Professional installation is required to ensure that your tub works appropriately and safely. But what happens during a professional free-standing tub installation?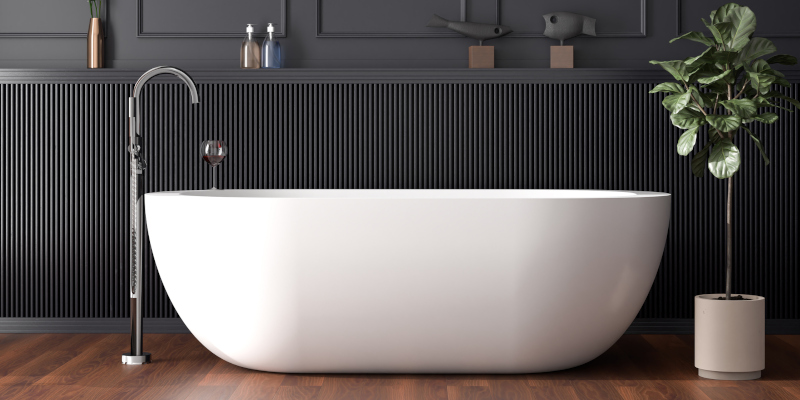 At Danny Eaton Plumbing, we will guide you through the installation process, which looks something like this:
Choose an Appropriate Location. The first step is to find the ideal location for your free-standing tub installation. Consider factors such as available space, existing plumbing connections, and accessibility. Ensure there is enough space around the tub for comfortable use and upkeep.
Prepare the Tub Location. The site must be prepared before installation. This could include removing any existing fixtures or flooring, leveling the floor, and ensuring the subfloor is strong enough to support the weight of the tub and water.
Set Up the Plumbing Connections. Next, we'll install the necessary plumbing connections. This step includes installing the tub filler and overflow and running new water supply lines and drainpipes.
Assemble the Bathtub and Its Components. We will assemble the tub according to the manufacturer's instructions, including attaching any legs, supports, or brackets. Then we'll make sure that all the components are securely fastened and leveled.
Place the Tub in the Desired Location. We'll place the assembled tub over the plumbing connections with care. We'll also check that the tub is level and securely supported by the supports or legs. Lastly, we'll make any necessary adjustments to achieve proper alignment.
Connect the Pipes. The next step is to connect the tub's water supply and drain lines. We may use plumber's tape to ensure a tight seal and prevent leaks. We'll also run water through the tub filler and drain to test the connections.
Seal and Caulk. Next, we will apply caulk around any areas where water could enter, such as the tub filler or overflow connections. Before using the tub, you should allow the caulk to cure.
Clean Up. Finally, we will carefully clean up the worksite and remove debris once the free-standing tub installation is complete and all connections have been tested. Your lovely new free-standing tub is now complete.
Professional free-standing tub installation ensures that your investment functions properly and lasts. We want you to have a bathtub you'll love. Contact us today.