Leave it to us when you need commercial plumbing replacement.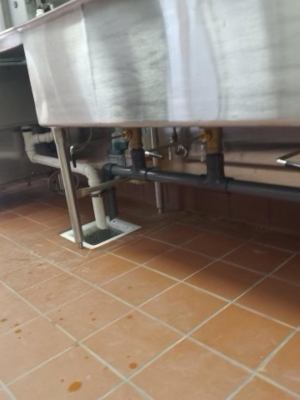 There are a few systems your commercial building relies on every day, and your plumbing system is one of the most essential components. So, when your plumbing system starts exhibiting issues, such as leaks or clogged drains, it's time to call professionals who can provide the appropriate plumbing services. In the Piedmont Triad, North Carolina area, that's our team at Danny Eaton Plumbing. We have been in this industry since 1978 and have served our customers with the same high standards for more than 40 years. You can count on us for all your plumbing needs, including commercial plumbing replacement services.
We'll take the time to fully assess the situation and inspect your plumbing system before recommending the best commercial plumbing replacement options for you. If we discover that the issues can be resolved with repairs, we'll fix them as carefully and efficiently as possible so your business can get back on track. However, if it turns out that your plumbing issues are too severe to be patched up, we will replace the fixtures and any other plumbing parts you might need. You can count on us to help you select plumbing products that meet your needs, and then we'll install them with exceptional attention to detail to ensure they don't give you any problems in the future.
We set ourselves apart from our competitors with our high-quality workmanship, level of expertise, and our dedication to customer service. We care about each of our customers and strive to do what is best for their business. If you have questions about commercial plumbing replacement or our other services, don't hesitate to get in touch with our team today. Contact us to learn more and schedule your appointment.