Welcome to

Danny

Eaton Plumbing

At Danny Eaton Plumbing, we are a locally owned and operated

residential

and

commercial plumbing

company. Established in 1978, our plumbers have served the Piedmont Triad area for over three decades. People trust us to come into their homes and businesses and take care of their plumbing, and building relationships with our customers is and always has been our top priority.

Our owner's father originally started our plumbing company, and he built what we are today from the ground up by working hard and treating people fairly. Over the past few decades, our plumbing company has grown significantly, starting with just a few employees to now having over 30 on staff.
The Man Who Started it All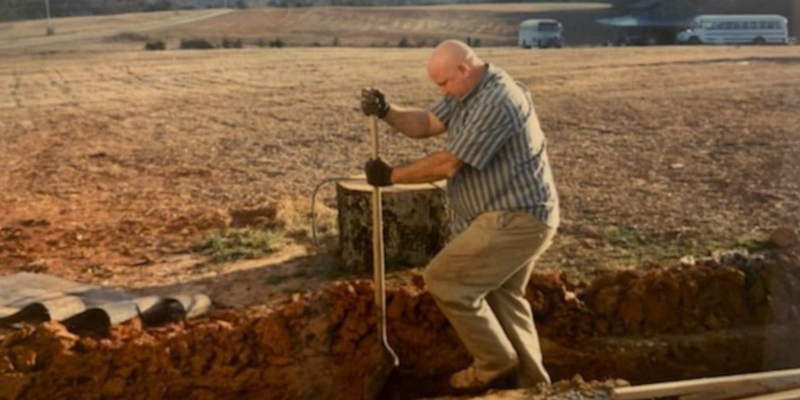 As many of you know, my father, Danny Eaton, founded Danny Eaton Plumbing back in 1978. The world was different back then – you knew your neighbors, and your neighbors knew you. Kids could roam the neighborhood safely, and old-school values were the norm, not the exception.
My father, who was the embodiment of hard work and caring for other people, started this plumbing company, determined to put in however much hard work it took to make it a success. Until he stepped back, he proudly served his clients with loyalty. Today, we continue to run this company just like my father did with a love for our clients and our local community.
When I took over the company, I wanted to continue to run this operation with the same values that my father put front and center the entire time he ran this company. There's a reason my father was so well-respected by his peers and our local community, and it's because he wasn't just a plumber; he was a plumber who truly cared.
Now, more than 40 years after we first started providing plumbing services, Danny Eaton Plumbing is still the plumbing company people turn to in the Piedmont Triad when they need help with a clogged toilet, leaky pipe, or any other plumbing problem. We provide exceptional customer service and put forth the effort needed to ensure our customers know we care. And because of this, we continue to keep my father's legacy alive.
Serving

All Carolinas!
Based in the Piedmont Triad Area
Established in 1978, our technicians and installers have been serving the Triad and the surrounding areas for more than 36 years.
Some of the Cities served:
Reidsville
Graham
Mebane
Mount Airy
Summerfield
Midway
Mooresville
Asheboro
Kernersville
Lexington
Clemmons
Archdale
Eden
Charlotte
Reidsville
Graham
Mebane
Mount Airy
Summerfield
Midway
Mooresville
We strive to continue our original owner's legacy by being thorough, fair, and considerate of each customer, along with completely meeting their plumbing needs. Some of our plumbing services include:
Water service line repair and replacement
Drain and sewer line unclogging
Kitchen faucet and sink installations
Toilet, bidet, lavatory, bathtub, and shower installations
Bathroom and kitchen piping and fixture repair
Water heater repair and replacement
Water softener repair, replacement, or new installation
Water filtration repair, replacement, or new installation
Remedies for smelly water
Water linere-piping
Sewer line re-piping
Garbage disposal repair
Kitchen sink repair
Advanced sewage treatment systems
Custom backhoe work
Tankless water heater systems
Multi-family new construction
Single-family new construction
Townhome new construction
Duplex new construction
Restaurant upfits/new builds
Commercial suites/strip mall upfits
Camera work for lines
Locating septic tanks
And many more!
Residential Plumbing
Our team has the right experience to help you keep your home's plumbing in good working order.
Commercial Plumbing
You can turn to us whenever you need commercial plumbing services—our experts will ensure your facility's plumbing remains in great shape.
Plumbing Services
We offer plumbing services of all kinds to help you keep your pipes and water fixtures working properly.
Family legacy
Our owner left behind a legacy for plumbing excellence that we work hard every day to uphold.
Comprehensive services
There's no plumbing job too big, too small, too complex, or too minor for our highly trained plumbers to complete.
Unparalleled reliability
Because we're a locally owned and operated company, we'll always show up and do the job right.
Request

A Quote

Trust us for exceptional workmanship that upholds our long-standing reputation for plumbing service excellence in our local community. Give us a call today to schedule your next plumbing appointment.

"*" indicates required fields